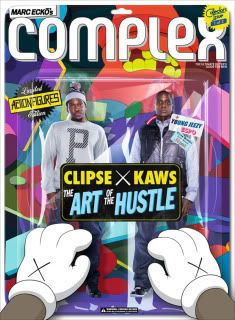 It's more than a beat with heavy base, and rhymes that cause inevitable head bopping. Or large Xs that cover your chest that do more than captivate a fashionably inclined individual's attention. I again, thank Complex magazine for yet ANOTHER incredible collaborative issue for October/November.
Yeah, say it, GR GR GR GR GRINDING! As soon as you hear this song you bang your fist on the nearest desk to imitate one of Pharrell Williams and Chad Hugo's many rhythmic creations.
&&.
From what used to be Union in New York City to Common Wealth in the nation's only Common Wealth, pardon the pun; you can find yourself drapped in Xs, sporting the new oxymoronic trend, Original Fake.
Peep this new collaboration on stands soon! && Pardon me, I must say, this is kinda like a big deal. So uhm, lights, camera, & oh yeah, action!