now, my guess would be that, when he wrote those lyrics, he didn't think that he would be on the cover of complex that soon, did he?
so. he's signed to Kanye's record label. Nominated for awards without even releasing an album. & now, he's on the cover of COMPLEX magazine. And this is not just ANY cover, this is an animated, personally drawn cover trying to capture a "nightmarish approach". pretty damn cool if you ask me. KidCuDi seems like one of those, about his business, but still wants to have fun and let the fans have fun as well. you guys will definitely enjoy this, like I have.
complex aug/sept 2009 issue. look out for it ! hitting a magazine stand near you, august 11th.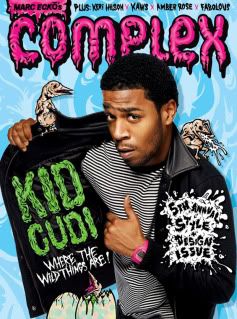 he's the man. !